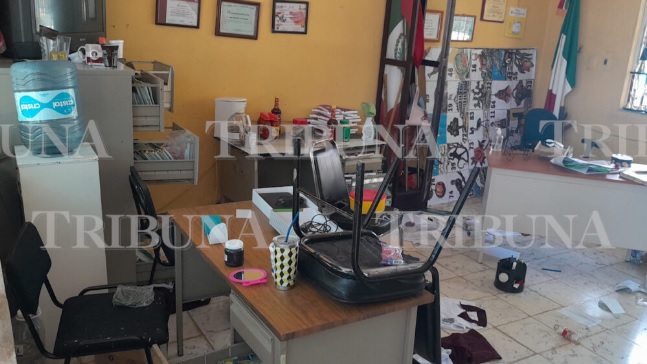 CAM 16 is looted due to lack of surveillance; third time in 15 days
For the third time in less than fifteen days, they looted the special education school of the Multiple Care Center number 16, due to the lack of surveillance by the elements of the Secretariat of Citizen Protection and Security (SPSC), in the Fovissste Belén housing unit.
During yesterday morning, parents, accompanied by the director, Marissa Sonda Ramírez, of said school located on the Mameyes walkway and Belén Norte Circuit, between the kindergarten and the "Margarita de Gortari" Primary School, discovered who once again became victims of crime.
On this occasion, the criminals broke the padlocks on the protectors of five classrooms, including the management one, and then forced, damaged and opened the doors of the classrooms from where they took computers, a printer, as well as two brush cutters, a fan, two horns, a water pump, uniforms and other items.
In addition to causing other damage such as destroying windowpanes with a stick, they also took the keys to the school, apparently with the intention of returning a fourth time.
Last week, in one of the two robberies, they took one hundred and five meters of cables and two lights from the civic plaza.
"What we need is for the Ministry of Education to hire a night guard, just as it did for the kindergarten where they have also broken into, coupled with the fact that there is no public lighting, which we have requested and reported to the authorities of the City Council of Campeche."
Once again, the teachers went to the State Attorney General's Office (FGE) to report the events, where to date the judicial authorities have not responded to the past investigations.
In addition to the lack of lighting, CAM 16 does not have a fence, and the old and deteriorated cyclonic mesh that surrounds it is easily lifted by criminals who enter to steal.
Source: Tribuna Campeche