If you are looking for a unique and authentic experience in Mexico, you might want to consider Campeche as your next destination. Campeche is a state and a city on the Gulf of Mexico coast, rich in history, culture, and natural beauty. Here are some reasons why you should visit Campeche in 2023.
Explore the UNESCO-listed city center
Campeche's city center is a gem of colonial architecture, surrounded by a defensive wall that dates back to the 17th and 18th centuries. The wall was built to protect the city from pirate attacks, as Campeche was a thriving port on an important trade route. You can walk along the wall and visit the two hilltop fortresses that offer spectacular views over the coast and house museums of Maya architecture and history.
The city center is also full of colorful mansions, churches, plazas, and arcades that reflect the wealth and elegance of Campeche's past. The main square, Plaza de la Independencia, is a lively spot where locals and visitors mingle, admire the cathedral, and enjoy the shade of the central park. You can also hop on a vintage tram for a tour around the charming streets or visit some of the cultural centers that showcase Campeche's art and heritage.
Discover ancient Maya sites
Campeche is home to some of the most impressive and best-preserved archaeological sites of the ancient Maya civilization. Within an hour's drive from the city, you can find Edzná, a complex of temples, palaces, and pyramids that dates back to 600 BC. Edzná features a stunning five-level temple that rises above the Great Acropolis and a sophisticated hydraulic system that irrigated the fields.
Another must-see site is Calakmul, located in the biosphere reserve of the same name. Calakmul was one of the largest and most powerful Maya cities, with over 6,000 structures and an estimated population of 50,000 people at its peak. You can climb some of the pyramids and enjoy panoramic views of the jungle and the wildlife.
Other notable sites in Campeche include Uxmal, with its famous Pyramid of the Magician, Becán, with its moat and arches, and Balamkú, with its well-preserved murals.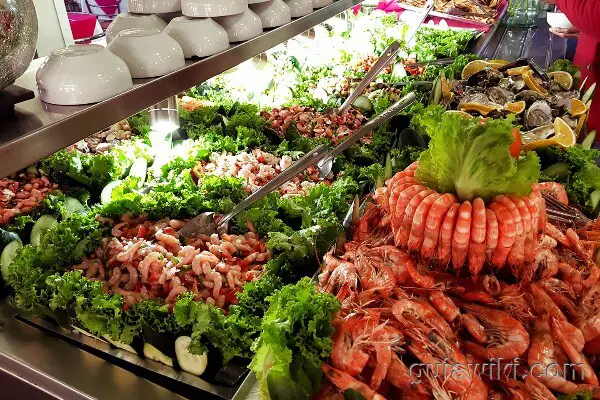 Savor local seafood
One of the perks of visiting Campeche is enjoying its delicious seafood cuisine. Thanks to its coastal location and regional traditions, Campeche offers a variety of dishes that feature fresh fish, shrimp, crab, octopus, and more. Some of the specialties you should try are Pan de cazón (tortillas layered with shark meat and tomato sauce), Camarones al coco (breaded shrimp served in half a coconut), ceviche (raw fish marinated in lime juice and spices), and Pulpo en su tinta (octopus cooked in its own ink).
You can find many restaurants in Campeche that serve these delicacies, as well as street cafes where you can sample local snacks and drinks. One of the most popular places is La Pigua, a waterfront restaurant that has been serving seafood since 1979. Another option is Marganzo, a family-run restaurant that offers traditional dishes and live music.
Enjoy nearby beaches
If you are looking for some sun and sand, Campeche has plenty of options for you. Along its coast, you can find several beaches that are perfect for relaxing, swimming, or snorkeling. Some of them are Sabancuy, Champotón, Isla Arena and Punta Xen. You can also take a boat trip to Isla Aguada, a charming fishing village that has been designated as a pueblo mágico (magic town) for its natural beauty and culture. Isla Aguada is known for its lighthouse, its mangroves, and its dolphins.
As you can see, Campeche has something for everyone: history, culture, nature, and gastronomy. It is a destination that will surprise you with its authenticity and charm. So don't wait any longer and book your trip to Campeche in 2023!
Source: Secretaria de Turismo de Campeche
---