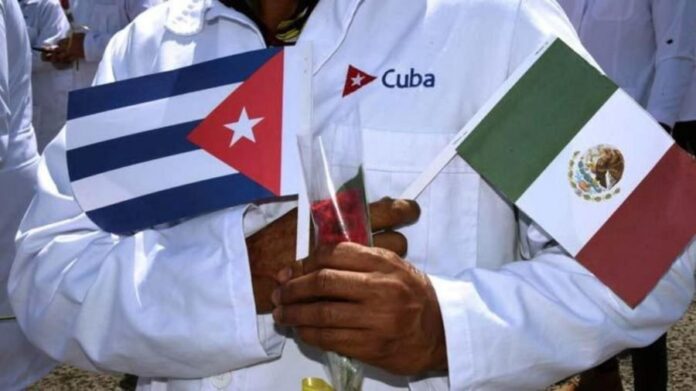 Mexican President Andres Manuel Lopez Obrador has been accused of coming to the aid of the Cuban dictatorship by importing doctors and paying the communist regime for their services.
The move not only infuriated many in the Mexican health industry but it's also seen as another example of how Lopez Obrador is thumbing his nose at Washington.
"I think this is something that is of most concern for U.S. national security. These medical missions have proven already to violate labor standards, to violate human rights, and also to be used as operations for intelligence missions and potentially military missions," Joseph Humire, executive director of the Center for a Secure Free Society, told Fox News Digital.
Using Lopez Obrador's nickname, Humire said, "AMLO never admitted this, but it is pretty clear that if his political party, Morena, had won the midterms in Mexico, they would have tried to make reforms to the constitution, they would have tried to extend his presidency to another term, but since he was not able to achieve that, it seems that his focus has been on accelerating his strategic alliances with authoritarian actors both regional in Latin America and the Caribbean and extra-regional through China, Russia, and Iran."
Recently, Sen. Marco Rubio, R-Fla., and Rep. Maria Elvira Salazar, R-Fla., sent a letter to Samantha Tate, division chief for United States-Mexico-Canada Agreement (USMCA) monitoring and enforcement, calling for an investigation into possible violations of the USMCA by Mexico due to their use of foreign medical personnel from Cuba. For years, the regime in Havana has forced Cuban doctors and nurses to work overseas, for pennies on the dollar, to enhance the regime's propaganda that it has world-class health care.
According to an investigation by Prisoners Defenders, some of those who call themselves "Cuban doctors" are members of the Cuban military and intelligence service. They have no medical specialty.
Former Cuban dictator Fidel Castro planned and executed the medical missions as a way to spread socialism in the Americas. He managed to get his ideas adopted by two of his most faithful followers, Hugo Chavez in Venezuela and Luiz Inácio Lula da Silva in Brazil, with whom he created the Sao Paulo Forum to push left-wing ideology on the entire hemisphere.
Source: Milenio