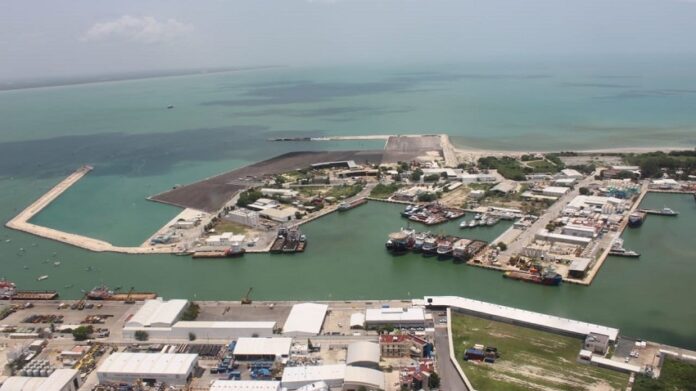 SEYBAPLAYA, CAMPECHE.- After pointing out that since its construction, the Seybaplaya port has remained incomplete, the director of the Integral Port Administration of Campeche (Apicam), Agapito Ceballos Fuentes, stated that they need to request approximately 1.5 billion pesos from the federal government to complete it, and important announcements on the matter will be made in the coming months. He also mentioned a project to expand the docking area so that more vessels can dock at that location.
In an interview about the actions taken with the support of the Federal Government, he explained that there is an executive project to carry out works in the ports of Seybaplaya and Ciudad del Carmen, as well as important projects such as the Interoceanic corridor, which will have an economic and development impact on the entire Isthmus of Tehuantepec region.
In the same context, he added that they have had some meetings with the Secretary of the Navy, as this agency has requested information about the needs of the ports located in Campeche.
He detailed that in the case of Seybaplaya, it is a port that remained incomplete because not all the required infrastructure was built, and in that sense, they are working because there is an interest from the State Government to improve both Seybaplaya and Ciudad del Carmen ports, which is one of the most important.
He added that they are analyzing and addressing the needs in those anchorages, but their completion is something that must be worked on from a political perspective because the Governor has to request it from the President of the Republic, Andrés Manuel López Obrador, in order to attract more investments to the ports of Campeche.
Ceballos Fuentes explained that to complete the Seybaplaya Port, around 1.5 billion pesos are needed, and there is a project to expand the docking area, that is, to have more docking bays so that larger vessels can dock at the Seybaplaya Port.
Regarding Ciudad del Carmen, he indicated that there is a basin with some issues, as well as a need for dredging, among many other needs to address, so in a few months, the state governor will announce some important projects for these areas.
Source: OEM
---