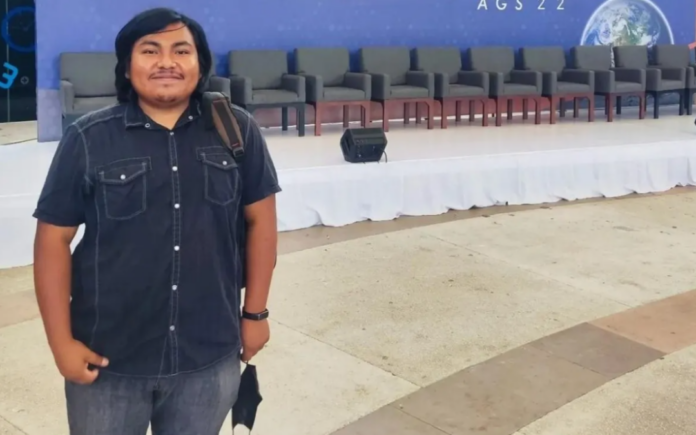 Guillermo Chin Canché, the only Mexican was chosen by NASA to explore Saturn and its moon Titan
The young man, who is a Mechatronics Engineer and studied Space Sciences and Technologies, will meet with 117 scientists from all over the world.

Campeche.- The phrase "the sky is the limit" does not apply to Guillermo Chin Canché, a young man from the community from Bethania, in Campeche, has achieved a great feat, he was chosen by nothing more and nothing less than NASA to participate in the "Dragonfly" project in the United States.
The young man, who is a Mechatronics Engineer and studied Space Sciences and Technologies at the National Institute of Optical and Electronic Astrophysics, will gather 117 scientists from around the world to study a satellite of the planet Saturn called "titan".
It should be noted that he will be the only Mexican to participate in this project, it was his master's thesis on a satellite called Enceladus and his interest in studying one of the eighty moons of Saturn led him to NASA, when researcher Scot Rafkin invited him to Project.
A humble person

Guillermo, proud of his Mayan roots, in a humble home in the small town of Bethania, in Campeche, spoke of the efforts he has made and the shortcomings he has had, however, that never stopped him from reaching fulfilling his dream.

"We sold more than a hundred pozoles every day. There have been times when we collect the sale of the day and 'look, take, buy what you need,' "says María Casimira, his proud mother.
Guillermo shared with Telemundo his love for science that his ancestors inherited from him. "The Mayans were the best astronomers that existed in the ancient world," says Guillermo.
What is the Dragonfly project about?

Dragonfly is a proposed spacecraft and mission that would send a mobile robotic lander to Titan, Saturn's largest moon, to study prebiotic chemistry and alien habitability at various locations.