Banderas Bay, Nayarit. Some 220 tourists were quarantined, by personnel from the Secretary of Health and Civil Protection of Nayarit, since Tuesday afternoon, in the Los Veneros luxury housing complex, because inside there would be two people confirmed with COVID-19, reported the state government.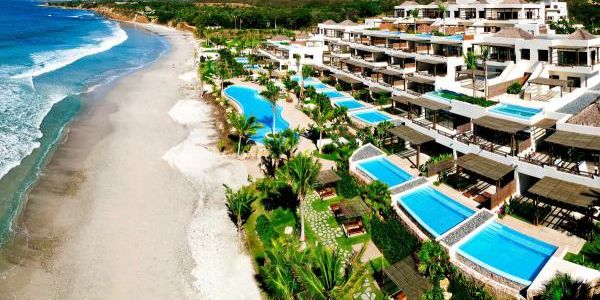 "There is information that tourists from the state of Jalisco vacation there, has tested positive for COVID-19," says an official report, highlighting that all tenants have refused to perform the respective clinical test requested by the Secretary of Health of Nayarit.
The official report added that in this "jointly installed sanitary fence, all health protocols are being followed, and it means that the 220 people who vacation in this luxury housing complex will be in quarantine; that is, no one can leave it for at least 10 days, which is the minimum time to complete the 14 days of isolation that is required to rule out incubation of the disease. "
He stressed that a similar strategy of confinement was applied for those who "can enter Los Veneros", which seeks to prevent the spread of the coronavirus among the inhabitants of Bahía de Banderas and the Nayarit municipality of Compostela.
Currently, he stressed, "a census is being carried out to determine precisely the number of people vacationing in this luxury tourist complex. There is information that around housing units, between houses and condominiums, are occupied, with an average of between 5 and 6 people per home, plus workers ".
He also assured that "there is confirmation of two people infected with COVID-19 coronavirus inside this complex, who are the same people that Governor Antonio Echevarría Gracia has been talking about since the weekend, whose identity is reserved by confidentiality issues ", and they arrived at the Banderas Bay over the weekend from the Guadalajara metropolitan area.
Personnel from the Secretary of Health and Civil Protection of Nayarit established, since Tuesday afternoon, a sanitary fence in which it was decided to close several areas such as restaurants and swimming pools in this place —located on the road to Punta de Mita, in Bahía de Banderas – which has extensive services for its guests such as a private club, spa, hiking trail, beach activities, restaurants, bar, business center and swimming pools, among others, to prevent the spread of the virus.
For his part, Governor Echevarría García expressed his annoyance at the arrival in Nayarit of Jalisco vacationers infected with coronavirus. He noted that "they are always welcome", but "that they contaminate our people is not worth it."
"The theme, for now, was Bahía de Banderas, they are coming to us, great, they are always welcome, but for now those irresponsible people who have the COVID-19 that came to Nayarit, have no mother," stressed the governor in a video.
"I know of people who have the COVID-19, I know where they are installed, I do not want to say names so as not to burn them, it is not my style, but the police will do the proper thing, the convenient thing, because my responsibility is with the Nayarites and I will take care your health; These are difficult days, better times will come, "he said.
Source: enteratenayarit.com, jornada.com.mx
The Mazatlan Post
For The Latest Mexico News About Living, Working, Investing or Retiring in Mexico Please Join and Share our Page or Click Here