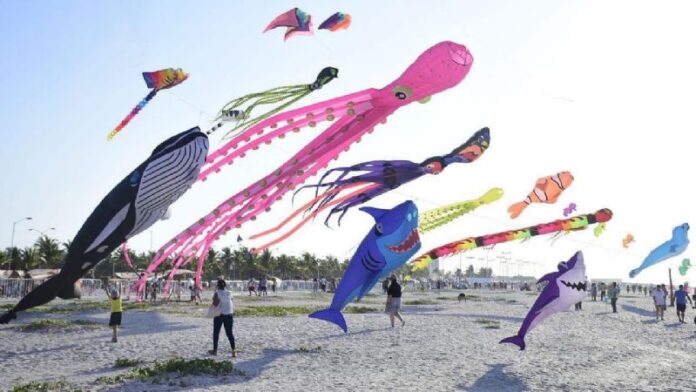 Although it wasn't prepared with big budgets or relevant or fashionable artists, the program of activities, recreational, sports and cultural events is 90 percent complete for the 2023 edition of the Fiesta del Mar, which will take place within the framework of Easter, from March 31 to April 9, with the participation of more than 100,000 people is expected during all the activities, reported Fernando Velueta, coordinator of the Celebrations of the Ciudad del Carmen City Hall.
He said that this festival aims to promote the municipality as a tourist destination, "especially the Island with these events, both with the Fiesta del Mar that takes place at Easter, and the July Fair, within the framework of the festivities in honor of Our Lady of Carmen.
After concluding Carnival 2023, he adds that the Coordination is prepared for the Fiesta del Mar to begin at the end of the month, "we are at 90 percent of the activities that will be carried out: recreational, cultural, artistic and sports."
The official established that all the events of the program are relevant, "everything, from beginning to end is relevant, such as the sand sculptures, the Kite Festival, which was held for the first-time last year, as well as the sports competitions."
He added that the Fiesta del Mar 2023 will be from March 31 to April 9 and will be taking place on the Nelson Barrera Romellón boardwalk, "the main stage will be from April 6 to 9; during these days there will be the Bikini Open, another freestyle and the Kings of Playback contests, "they are relevant events this year, as we try to make it better than 2022".
Regarding sporting events, he said that these are being organized by the Institute of Sports and Youth (INDEJUCAR), "but they are practically the same as the exatlón, one of the ones that attracted the most attention, there is also the volleyball tournament at the beach, beach soccer, as well as other activities in all categories".
Although he avoided mentioning what the budget is, as well as if there will be any renowned artist to enhance it, he only commented that the exhibition of sand sculptures will be on March 31 and dance nights, DJ festivals have been scheduled in the artistic forum, Reggae Fest, and in terms of artists it is being analyzed, but they will be regional and local.
Finally, he added, that the presence of visitors from the interior of the municipality and from other parts of the country, even from abroad, is expected; at least a figure of 100 thousand people.
Source: Por Esto