They add that fuel will not drop as promised
In line with the national strike of the Mexican Association of AC Transport Organizations, the Campeche section, led by Manuel Jesús Verá Gómez, pointed out that the promise of the president of Mexico, Andrés Manuel López Obrador, to lower the cost of fuel has been diluted and the situation worsens when the municipal police of Escárcega and Champotón extort money from them despite having all their documents in order.
"They look for us to the minimum to get money if we want to comply with our transfer, some of us cannot stop because it is more profitable to work long hours to save a little on fuel, because there is no way that it will go down as promised by the president of Mexico, "he added.
Accompanied by about 40 drivers in the periphery of the city, with exit to the highway to Yucatan and as a scene the monument to Pablo García y Montilla, he said that they expect the federal government to comply with fuels since it not only affects transporters but also to all citizens since all product transfers are generated with fuel.
He also highlighted that Campeche is one of the entities where diesel is more expensive, the federal government has exhibited in the morning that in the municipality of Escárcega they abuse the cost at the British Petroleum station.
They also accused that they not only have problems with the cost of fuel, but in the particular case of Campeche, they suffer extortion in the municipalities of Escárcega and Champotón at the hands of the municipal police, since at the entrances and exits of said demarcations there are checkpoints that look for every little detail to ask for a "mochada."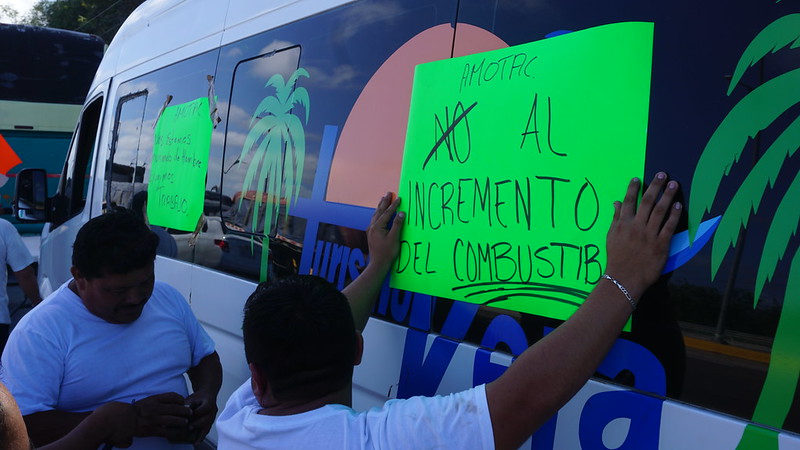 "We can get rid of Escárcega, we could modify the routes to Carmen, but Champotón is an obligatory step, there we usually spend the night or stop by for a snack at any time, however, we also pay the municipal agents for their lunch or dinner because we always They take something out of our way, "he said.
Source: lajornadamaya.mx